Aggressor Employment Advantages
Liveaboard Yacht Requirements


Working on a luxury liveaboard dive yacht in an exotic location is a unique, exciting, and rewarding life experience. Staff have the chance to live and dive in spectacular locations, encounter extraordinary marine habitats, and share their acquired knowledge and skills with guests from all over the world.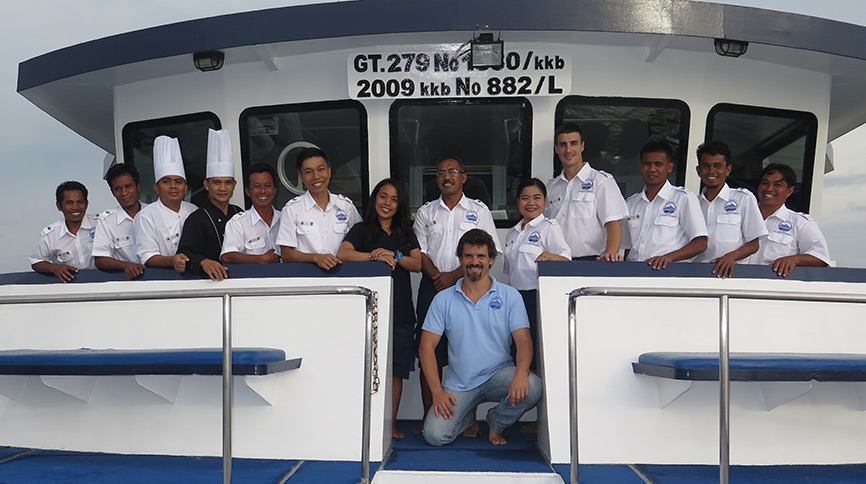 The staffing requirements of each yacht are specified by the regulations of the country it operates in and the vessel's registry flag state. These regulations typically require the yacht to give preferential treatment to hiring citizens (or residents with rights to work) of the country that the yacht is operating in. When skills and certifications are not available locally, the yachts are permitted to hire foreign workers and purchase, on their behalf, permits that allow them to work within that country. We assist new hires with this process.


The skilled positions within the fleet that may qualify for work permits are Captains, Cruise Directors, Engineers, Chefs, and Dive Instructors. Positions for Divemasters, Stewards, and Galley Assistants are almost always filled locally.


Once all the rules are followed – the reality is there are more opportunities for employing foreign workers on the Caribbean (5 yachts), Hawaii, and Palau (2 yachts) based yachts.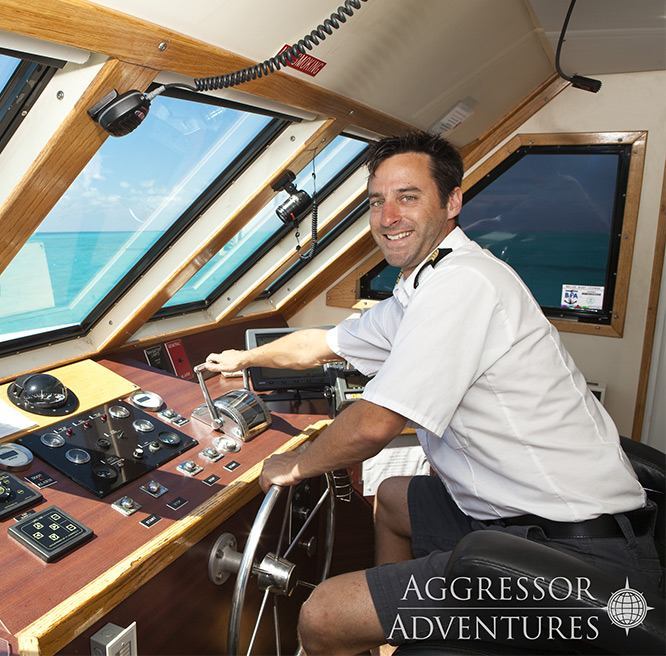 Yacht Management Structures


There are two common management/organizational structures on the yachts:
CAPTAIN IN COMMAND: In this structure the Captain is in command of the maritime aspects of the yacht and is also responsible for all hotel and diving operations. All staff members answer to the Captain.


CAPTAIN & CRUISE DIRECTOR: In this structure the Captain is in command of all maritime aspects of the yacht and the maritime staff answer to the Captain. A Cruise Director is then responsible for interacting with all guests and managing the hotel and diving programs. Some of the staff members report to the Cruise Director. Together, the Captain and Cruise Director work as a team. This model is typically used when the Captain and maritime team are from an operating country where English is not the primary language.
The Reality of Working on a Liveaboard
When prospective employees consider joining a crew, they often think only of the glamourous aspects of yacht life. While breathtaking sunsets, amazing dive locations, and exciting ocean adventures are part of the experience, a lot of hard work goes into executing a memorable trip for our valued guests. It's more than just a job on our yachts. We have compiled a "Reality" list below to provide clarity for prospective employees in advance of the application process.
Reality #1
Remember that there is no "I" in TEAM

The fact that staff spend 365 days with roughly the same people, in a confined area, does not leave a lot of room for abrasive personalities or dramatic mood swings. Cooperation, consideration, and being a team player are vital traits to creating that special environment that all Aggressor Liveaboards' guests have come to know and expect.
Reality #2
There is no such thing as "9 to 5"



Potential applicants who find ten hours a day, five days a week a rough schedule, need not read any further. There are times when staff are rudely awakened from a well-deserved sleep to repair a broken toilet in a guest's Stateroom, or when fellow staff are sick and team members have to pick up the slack. And, don't forget, staff do this all "with a smile!"
Even those with experience in restaurant management, hotel management, or have worked on a cruise ship, find working on an Aggressor Liveaboards® dive yachts is a 24/7 commitment. If you don't think you can make that commitment, this job might not be for you.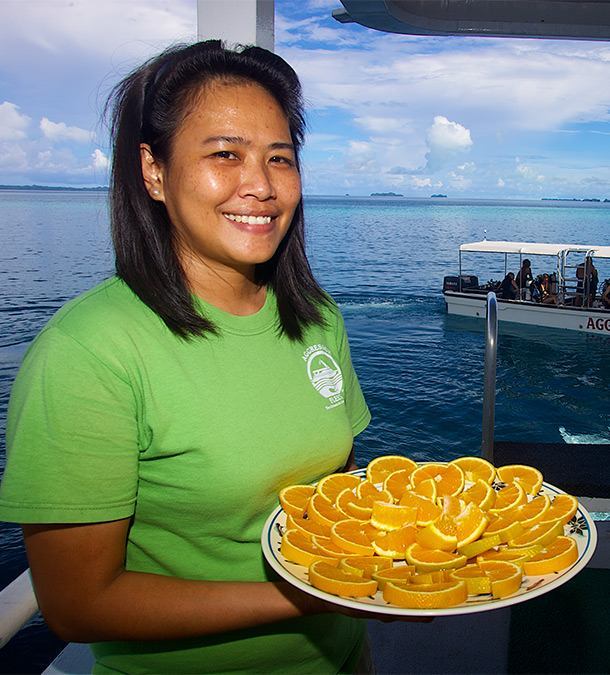 Reality #3
"What, this closet is my living quarters, and you share it with me?"

If you are currently living in a one-bedroom apartment and don't think you could live in anything smaller, suffer from claustrophobia, or have problems sharing space with others, you may want to consider a land-based operation. In the staff quarters on a liveaboard, you won't be given much stretching room or room for personal items, and more importantly, you will have little privacy.
Reality #4
Compensation

Working on a liveaboard should be something that you do because you love the work; however, Aggressor Liveaboards® staff are well compensated. Because staff are out at sea with room and board paid for, good financial skills allow staff to save most of their salary, tips, and commission earned.
Reality #5
A Divemaster's responsibilities extend beyond diving, every day.

It is a huge misconception across the liveaboard diving industry that the Divemaster is only a Divemaster and all s/he does is dive, dive, dive. Though the "I am the Divemaster, therefore all I do is dive" mentality does not fly on a liveaboard, Divemasters do have the opportunity to experience some great diving, but only based on staff rotation to get into the water. The rest of the time, the Divemaster is helping on the dive deck, doing the daily turn down service, watching guests' bubbles, working in the engine room, cleaning both guests' rooms and often the entire yacht or helping the Chef prepare for meals.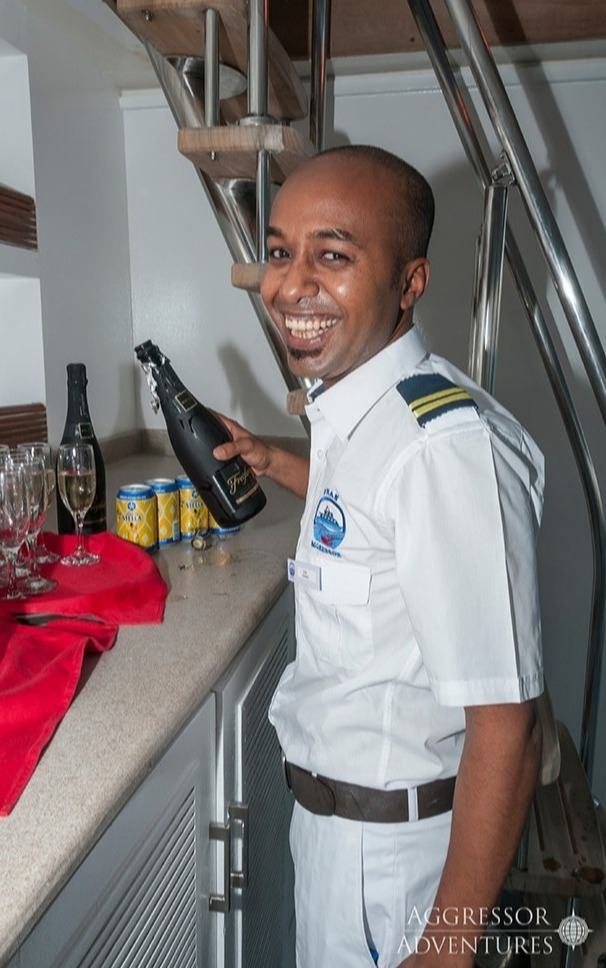 Reality #6
No matter what the staff position, organization and time management are keys to success.


This means more than organizing the dive briefing 15 minutes before the dive time or coordinating with the Captain when the yacht will move to the next dive site. It also means keeping paperwork in order, reading it, understanding it, completing forms accurately, and even alphabetical filing. Everyone on the boat has responsibilities that go beyond what is on the schedule. Efficient staff manage their time well to ensure they make it to bed on time.