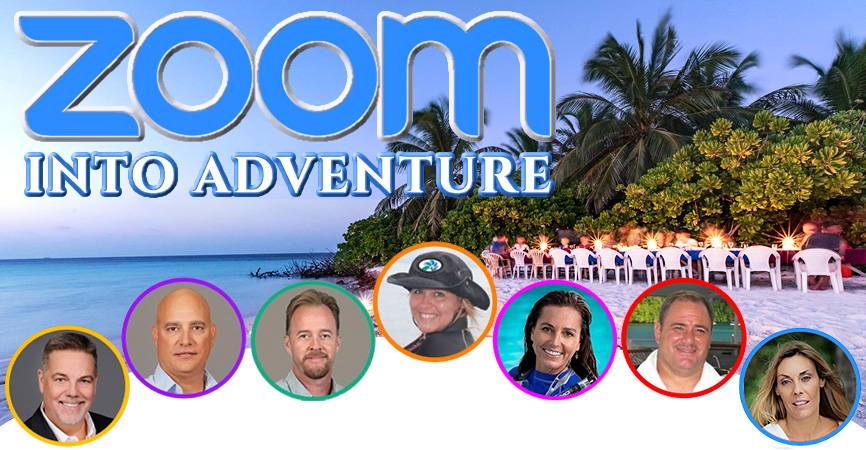 ZOOM INTO ADVENTURE
"Explore from your home with Aggressor Adventures® on Zoom!"


All you need is a spirit of adventure. Join us for these free, virtual Adventures of a Lifetime®! Here is our celebrity line up, mark your calendar!


Live presentation then Q & A
Limited to 300 participants
Check schedule below for presentation times.


Series Schedule:
June 2, 2020 - 3:00 pm Eastern Daylight Time or 19:00 GMT
Speaker: Onditz Calparsoro, Okeanos Aggressor I & II® Manager
Title: Adventure to Cocos Island, Costa Rica aboard the Okeanos Aggressor I & II
Join Us: https://zoom.us/j/91758457022

Join us to learn about Cocos Island which offers some of the best diving in the world. Divers will learn about traveling to Cocos Island, a lush, green uninhabited island 342 miles off Costa Rica's Pacific coast to dive with schooling hammerhead sharks, manta rays, turtles, tuna, countless white-tip sharks and whale sharks.


About Onditz Calparsoro: Onditz is a PADI Instructor (MSDT) and has worked with the Okeanos Aggressor I & II since 2003. Originally from the Basque Country (Spain), Onditz has always lived near the ocean.
After finishing her degree at Deusto University, she started traveling the world and discovered diving. In 1997, she completed her Open Water Diver Course in the Whitsunday Islands, Australia. Falling in love with the sport, she then focused her travels around diving and completed her Advanced Water Diver certification in Cairns, followed by her Rescue Diver certification in New Caledonia; she then started her Divemaster course in Vanuatu. After returning to Europe, she worked on a liveaboard in the Red Sea for five years. Luckily, at a dive show in Madrid, she met the owner of the Okeanos Aggressor who hired her as the cruise director where she fell in love with famed Cocos Island where she has worked and lived for 17 years.
June 10, 2020 - 1:00 pm Eastern Daylight Time or 17:00 GMT
Speaker: Mike & Mike School of Photography
Title: Getting The Most From Your Photo Softwar

Join Us: https://zoom.us/j/96521864548

Mike and Mike are back talking about software for your digital images. In this Zoom presentation, they will provide insight on how to best organize a digital library of photographs. They will also show you how to use some of the more useful image adjustments to underwater photographers.
About Mike & Mike: The two Mikes own the Mike & Mike Photography School. With 25 years of experience, their greatest satisfaction is assuring their students receive the finest instruction. For thirty years, Aggressor Liveaboards® has been the exclusive home of this exceptional school where photographers learn new skills in beautiful destinations worldwide. Mike Haber serves on the Board of Directors of the Sea of Change Foundation; and Mike Mesgleski is a recipient of the prestigious SSI Platinum Pro certification.
Previous ZOOM Adventure Presentations:




April 28, 2020

Speaker: Captain Amanda Smith, Turks & Caicos Aggressor II
Title: Diving in the Turks and Caicos and snorkeling with the Dominican Republic Humpback Whales.
Pre-Recorded Adventure Presentation: VIEW NOW
May 1, 2020
Speaker: Doug McNeese, President SSI USA
Title: JUMP IN! – Dive Training from Home
Pre-Recorded Adventure Presentation: VIEW NOW


May 5, 2020
Speakers: Mike Mesgleski & Mike Haber, marine photography instructors
Title: Get the Shot! Tips & Tricks with Point & Shoot cameras.
Pre-Recorded Adventure Presentation: VIEW NOW


May 7, 2020
Speaker: Richard Wiese, Explorer and Author
Title: "PBS, Born to Explore" – From the Cayman Islands to Sri Lanka
Pre-Recorded Adventure Presentation: VIEW NOW


May 12, 2020
Speaker: Les Stroud, "Survivorman"
Title: Join Survivorman in Costa Rica!
Pre-Recorded Adventure Presentation: VIEW NOW
May 14, 2020
Speakers: Aaron Lerman & Wayne B. Brown
Title: Welcome Aboard the NEW Philippines Aggressor®!
Pre-Recorded Adventure Presentation: VIEW NOW
May 19, 2020
Speaker: Aggressor Adventures Operations Team
Title: Shipshape and Ready for Your Next Adventure of a Lifetime®
Pre-Recorded Adventure Presentation: VIEW NOW


May 21, 2020
Speaker: Samantha Whitcraft, Conservation Biologist
Title: The "ish" of Fish – How to Know Any Fish You Meet.
Pre-Recorded Adventure Presentation: VIEW NOW
May 26, 2020
Speaker: Kristin Valette Wirth: The Chief Marketing Officer for PADI Worldwide
Title: Be a Torchbearer for the Ocean
Pre-Recorded Adventure Presentation: VIEW NOW
May 27, 2020
Speaker: Captain Scott Arni, Palau Aggressor II® & Rock Islands Aggressor ®
Title: "Explore Palau" – Epic Diving from Blue Corner to Jellyfish Lake
Pre-Recorded Adventure Presentation: VIEW NOW