Adventures with Les Stroud


Join Les Stroud for a 7 Night/6 Day adventure exploring southern Costa Rica from the Copa De Arbol Beach & Rainforest Resort.
Located in the southern pacific region of Costa Rica on the Osa Peninsula, Copa De Arbol is perfectly situated between Drake Bay and the Corcovado National Park in an area known as "Caletas" (small coves). Different from other destinations in Costa Rica this eco-luxury resort is only accessible by boat yet still has all the amenities of a full-service hotel.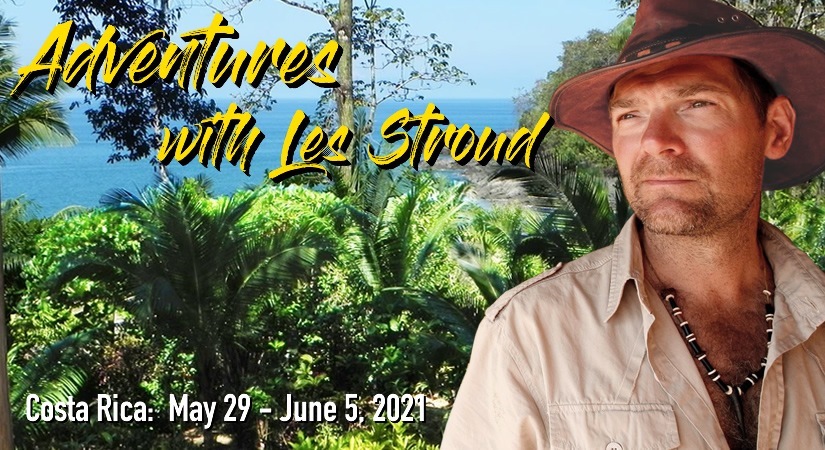 Your host, Les Stroud will accompany you as you visit the crocodiles of Tarcoles River, beach hike, and snorkel at Caño Island, exploring the "crown jewel" of Costa Rica's national parks, Corcovado National Park. Corcovado boasts 13 different ecosystems supporting an abundant variety of wildlife including: tapir, jaguar, puma, squirrel and howler monkeys, sloths, giant anteaters as well as toucans, scarlet macaws, and a large array of other tropical birds, reptiles, and insects.

There are planned activities each morning and each afternoon, yet you will have plenty of free time to relax and enjoy the many amenities and activities offered at the beautiful, 75-acre ocean side property.
Copa De Arbol Beach & Rainforest Resort
What sets Copa De Arbol apart from other hotels in Costa Rica is the indigenous ocean life, animals, reptiles, birds, flora, and topography of this 75-acre property. The regional beauty of Copa De Arbol extends throughout the entire Osa Peninsula with an intact ecology that stands as one of the few remaining regions of Costa Rica and the world where you can experience the harmony of a balanced ecosystem.
The heart of the resort is the beach which is the travel hub for all off-site activities as well as arriving and departing guests. With abundant marine life, snorkeling, whale watching, and fishing are all accessible right from the property. There is no shortage of water toys such as kayaks, stand-up paddle boards, and snorkeling equipment.
Accommodations: Constructed using recycled materials and reforested, tropical woods such as teak, cypress and melin, all accommodations feature ocean and rainforest views. Every cabina was custom-made by hand with an indigenous Costa Rican architectural theme and includes all the amenities of a modern hotel. The buildings integrate into the landscape to maintain the beauty and natural footprint found in this special stretch of coastline. Resort cabinas and villas all have balconies with seating areas, pillow-top orthopedic mattresses, air-conditioning, ceiling fans, and tiled bathrooms with walk-in showers. You'll be within 100 yards of the beach, with the rhythmic sounds of the ocean and rainforest to lull you to sleep.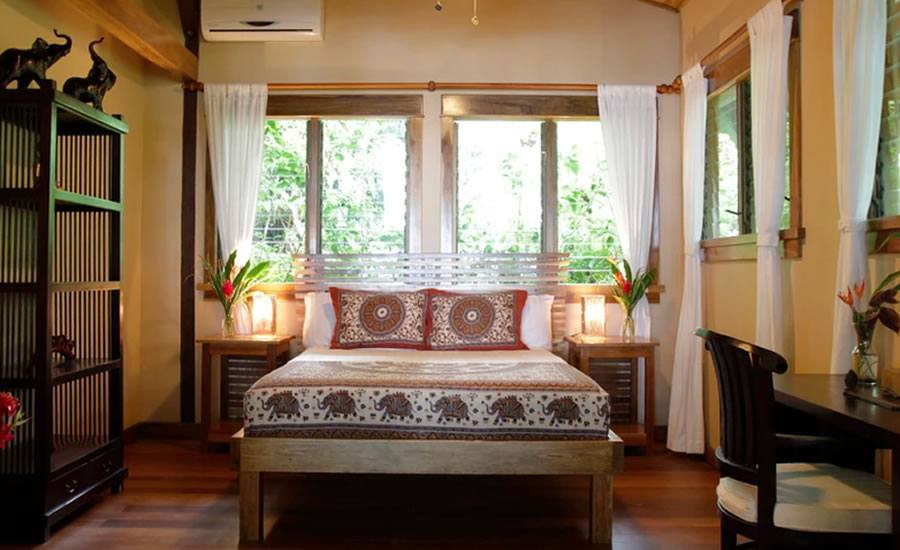 More About Les Stroud - Musician, Author, & Film Maker

Best known as the Canadian Screen Award winning producer, creator and star of the hit TV series "Survivorman", Les Stroud is the only producer in the history of television to produce an internationally broadcast series entirely written, videotaped and hosted alone. With Les known as the original genre creator of 'Survival TV', Survivorman is one of the highest rated shows in the history of OLN Canada, the Science Channel US and Discovery Channel US and remains the highest rated repeat show on the Discovery Channel.
A celebrated keynote speaker, musician and author, both his books Survive! – Essential Skills and Tactics to Get You Out of Anywhere–Alive! (Harper Collins) and Will to Live have made the New York Times bestseller list. Nominated for Best Travel Writer at the Canadian National Magazine awards, Les's third book Beyond Survivorman launched into stores January 2014.
Les Stroud the musician, comes by his music honestly. Since the age of 14+ Stroud has been writing songs and studying musically. By age 23 his music was being shopped to the likes of Bruce Springsteen and he was a published songwriter with RCA/BMG music. Taking a break from music to concentrate on outdoor adventure throughout the mid 80's and early 90's Stroud eventually returned to his first love when he found an old guitar in a house in Yellowknife, NWT in Canada, while he was dog sitting 30 Inuit sled dogs (go figure!). It re-ignited his passion for music creation and picking up where he left off, began writing again. He continued to write and record all through the inception and eventual success of filming the Survivorman TV series.
A proud member of the prestigious Explorers Club, Les received Fellow (highest rank) of the Royal Canadian Geographic Society. Les has received both the Distinguished Alumni award and was nominated for the Premieres award for excellence for work in his field. He contributes to dozens of charities and benefits, is an ambassador for Shelterbox, and is an advanced survival trainer for the Canadian Military Armed Forces as well as sits on the board of advisors for the Sea Shepherd Conservation Organization.